Tietoa meistä
About us
About us
Basecamp Oulanka is located in in Kuusamo, northern Finland, in the southernmost point of Oulanka National Park, close to the Arctic Circle. Planned, built, and maintained according to the sustainable concept since 1998. We have strict code of conduct which includes all our operations and activities. When visiting us, you leave a positive footprint. Our nature-friendly activities are true eco tourism, bringing together conservation, community and culture.
Accommodation

Our 18-room wilderness hotel consists of 9 smaller rooms (16 m2) with one 140 cm wide double bed, and 9 larger rooms (21 m2) with two separate 80 cm wide single beds plus extra beds in the loft. There are no distractions such as television or radio in the rooms. Each room has a bathroom with shower, underfloor heating and wireless internet access. Check-in from 3pm, check-out before 12pm.
Food and drink


Dining takes place in our restaurant, which is located in the main building.
The reception, bar, summer terrace and sauna are located in the same building.
Our breakfast is traditional Finnish with local products.
Lunch usually consists of soups.
Dinner includes three courses: starter salad, main course and dessert.
The ingredients of our food are as local as possible, such as salmon, moose and reindeer. We kindly ask you to inform us about any special diets in advance in the message field when booking, as raw material purchases must be made well in advance.
Payment

Reservations made in the online store are paid at the time of reservation in an online bank or with a credit/debit card. Purchases made during the trip and extra-charged activities can be added to the room bill, which is paid on the spot upon departure.
How to arrive

Arriving in Kuusamo by plane is convenient and there are also cheap flights. Book your flight directly from Finnair. Airport transportation can be arranged and we will add the price of the transportation to your room bill. We try to organize carpools, which reduces the cost per participant. A driver with a Basecamp Oulanka sign is waiting at the airport.

You can indicate your transportation needs and your arrival schedule in the message field when booking. Arriving by land is possible by public transport (train and bus) via Oulu all the way to Ruka. We will help those who arrive at Basecamp from Ruka or the centre of Kuusamo.
You can arrive with your own car, too. Remember to reserve plenty of time and food for the trip! A free parking is available in front of the hotel.

We can help with your transportation needs when it's time to leave for home.

You can also pre-order a taxi directly from Ruka taksi, tel. +358 6000 4141 or via www.rukataksi.fi
Taxi fare Kuusamo airport - Basecamp is about 110 euros/car
Taxi fare Ruka - Basecamp is about 65 euros/car
Contact us

Do you want to experience something unforgettable in the wilderness of Oulanka National Park? We will plan a holiday just for you, from a one-night stay to a week-long experience.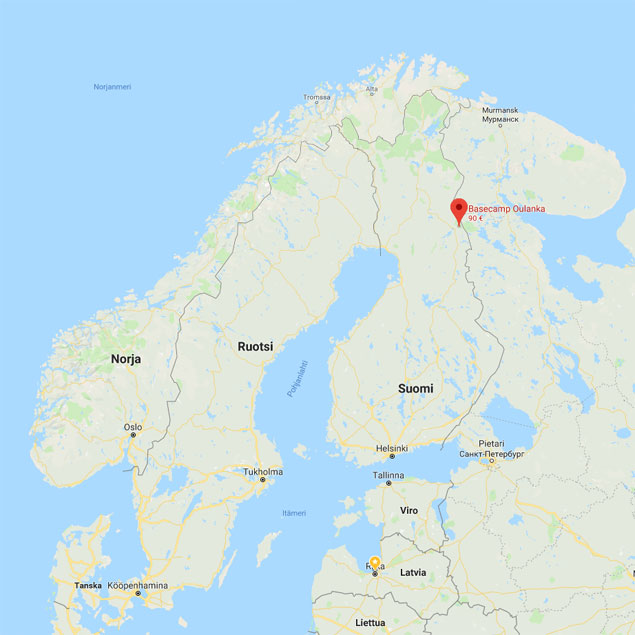 Our location

In Kuusamo, northern Finland, next to the Pieni Karhunkierros hiking trail, in the armpit of Oulanka National Park, a few minutes walk from the famous Myllykoski rapid.

Contact information

Basecamp Oulanka
Karhunkierros Luontokeskus Oy
Myllykoskentie 30
93900 Kuusamo
Finland

N 66° 15.8134′
E 29° 24.6444′

[email protected]
+ 358 400 509 741
Visiting hours

Daily 8am to 10pm
(Closed for spring break
from 17th April until 24th May 2023)


Company ID: FI08715609
Registered tour operator:
0735/02 Mj